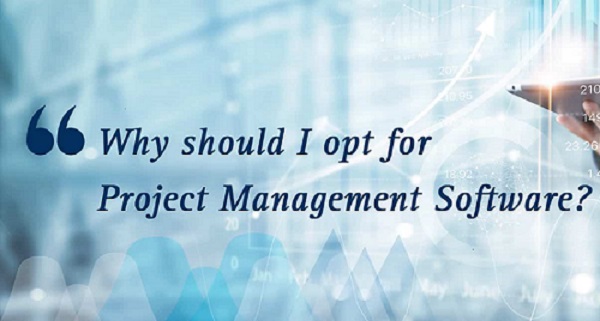 05
Aug
Why should I opt for Project Management Software
As a project manager, it's your job to successfully guide a project to completion within a selected time and budget.
The Innovative project management process includes people (and their opinions!) and workflow updates, cycles, and redesigns. All these changes contribute to a convoluted, complex flow of approvals, benchmarks and deadlines.
For years, project management as a practice is taking the success of projects to a new level and the project management tools & software are the way to natural progression.
As you know, project management deals with various aspects of a project such as dividing the whole project into smaller tasks and subtasks, allocating resources to tasks, assessing risks that can cause delays, communicating project status with clients and stakeholders, etc. that collectively decides the success of the project.
The prime function of a project management system is to help managers with their everyday project management responsibilities.
Common features of project management Software
Planning & scheduling
The best online project management software enables assigning tasks to colleagues and setting priorities and deadlines.
Adding due dates to tasks automatically sends a notification whenever the scheduled completion date approaches and therefore the activity remains incomplete.
Prioritizing tasks is incredibly helpful whenever urgent problems arise. By using a planning tool with scheduled time slots, you can quickly make room in your planned schedule without manually rescheduling the whole project plan.
Task management features are nearly ubiquitous among the web-based work planning software, means that finding one isn't a difficult task. But don't ignore it while searching for new PM software as it's essential to efficient teamwork.
Here's how the tool enhances your project management :
Time slot view gives an overview of how many hours and tasks have been booked for each team member, showing the unscheduled time slots.
Quick overview of everyone's tasks and unscheduled time helps to set realistic deadlines and to avoid overbooking people.
You'll end up with a vastly more productive project team.
Resource Management
For every project, resource management is an integral part which will make conscious of the entire project cost and other related things.
Therefore, it becomes extremely advantageous to possess a resource management function on a project management tool to calculate expenditures and distribute well the tasks along.
Real time reporting
Accurate, timely reporting is important for effective project and portfolio management. Project managers got to know where their team members are on their assigned tasks, and C-suite stakeholders need frequent updates on budget and timeline performance for projects across the organization.
Work Flows
workflow refers to the series of steps that need to be taken to complete phases and how the person responsible needs to move between them.
A project management tool must have an automatic workflow system that permit users-automatically send and receive tasks for approvals, act on approvals directly via mails and keep track of communication, & workers who travel keep monitoring their projects and get updated.
Document management tools
Project teams in any industry, from software to manufacturing to marketing, need a centralized resource for shared documents. I-cost lets team members view and edit their project documents in real time, eliminating the need for multiple conflicting versions of critical materials. It also provides the capability to integrate with common web-based document management tools like Box and Google Docs.
Effective time tracking
More and more managers are longing for time tracking as an important feature for better planning, accurate time estimation, and working with great precision on project tasks. A project management system with a time tracking tool will improve the way projects move forward.