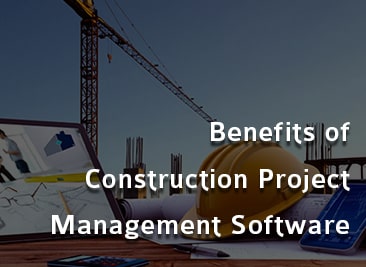 05
Sep
Benefits of Construction Project Management Software
Key Benefits of having a Construction Project Management Software
An ever increasing number of firms across an array of constructions get into realise that they need a powerful and customised project management tool that would help for better control and workflow over their business processes. So automatically construction management software comes into role that makes us believe that the construction project management software will be self-evidently good and useful to these mentioned tasks.
Before entering into the mainstream just want to make you people understand about Construction Management Software. It is a collective system of project management tools that are exploited in construction industries effectively in a manner to make improvements in process of planning, team work, team coordination, task monitoring and control over the implementation of a project. Commonly, it is utilised by such construction management, building owners, builders, renovators, contractors and subcontractors.
Now, the eligibility for a best management software for construction industries is not just need to support the requirement of different types of construction projects (e.g. residential, commercial, institutional, industrial, highway, heavy civil) but it also ought to be adjustable for its clients to have the option to deal with construction projects easily of any size and any level of complexity.
Benefits of construction management software
Using an appropriate customised construction management system is the way of moving in the right direction, working towards the best possible outcomes with discovering the following benefits:
Real-time communication and collaboration
Communication barrier is the crucial part of any kind of industry or field. The work on any project, no matter what size it is, requires overcoming these communication barriers for eventually improving the planning and coordination of field operations. Construction project management system allows customers and external stakeholders to connect with construction firms in addition it provides workers with a well-integrated management tool means for clarifying internal matters.
Budget management and accounting
Budgeting and accounting is the next barrier for an efficient project management. Budgeting software is necessary for a management of the construction project to make the process of budgeting and forecasting easily. Management software added with budgeting tool, simplifies the process of estimation of costs as part of project control. Existing cost performance records from previous projects can be determined here, for analysing the budgeting. Besides, the project management software can support establishing the estimated price for the job, core accounting and expense management, etc.
Resources management
Every project Manager needs an effective resource management strategy to keep their teams in a tip-top shape without overbooking them with work or vice versa. Another frequently cited benefit from the construction project management software is the managing resources involved in the project. Being connected with the cost control and budgeting, the resources management is in worthy of special attention. Since Resource management tools having the best features to spot resource obstructions and insights, one can bring more people onto the team, By providing visibility into the workloads of the entire resources, their performance has been tracked, analysed and organised.
Easier Document access and Sharing
Construction companies have to create and handle large amounts of paperwork, and all documentation must be stored and shared securely. With the construction management software, it is easier to share documentation among team members and external stakeholders. Integrated construction management software provides a safe place for all project management documentation, gives access such documents as wireframes, blueprints, specifications, and digital plans. On the top, when a centralised document control system is in place, the decision-making process will be streamlined, too.
Enhancing Business Productivity
Furthermore another significant advantage of Construction Project Management software is that it streamlines your decision-making process and improves efficiency at work. As all of the important details can be found in a single place, you can always make informed decisions within the shortest time.